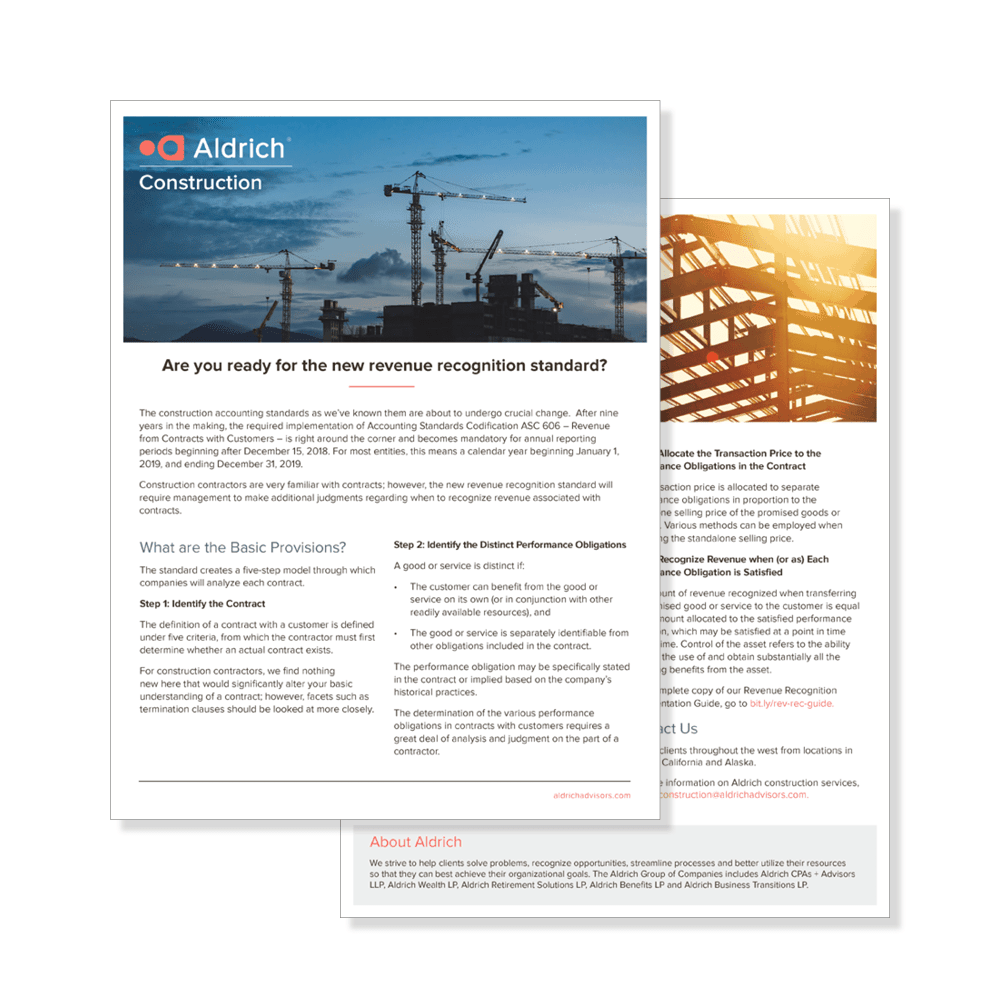 Are you up-to-date on the new revenue recognition standard?
After years in the making, the required implementation of Accounting Standards Codification ASC 606 – Revenue from Contracts with Customers – is now mandatory for annual reporting periods beginning after December 15, 2018.
Read our full guide
Reliable finance and accounting built on experience
Serving contractors and the built environment for 35 years.
Our construction financial services group serves more than 500 general contractors, subcontractors and developers, ranging from small proprietorships to large, multi-state contractors with annual revenues between $25 million and $800 million.
Services for the construction industry
Timely financial reporting for your company bonding needs
Audit, review, and compilation of financial statements
Federal and state tax planning, including multi-state tax compliance
Strategic business planning and consulting services
Job costing and accounting systems
Succession and transition planning
Cash flow analysis
Benchmarking
Overhead rate analysis
Balance Sheet Metrics
A Healthy Balance Sheet is Good for Business
There are four key metrics in your construction company balance sheet that communicate financial stability to financial institutions and surety companies.
Meet Our Professionals
Nick Balaity joined the firm in 2016 and has been providing construction contractors, builders and real estate professionals assurance services (audits, reviews, and compilations) since 2011. Prior to joining Aldrich, Nick started his career working with a large local firm in Portland, Oregon. Nick likes to take a holistic approach to serving his clients by... Read more Nick Balaity, CPA, CCIFP®
Nick's EXPERTISE
Construction
Real estate
FAR overhead rate schedules
Certified Public Accountant
Certified Construction Industry Financial Professional (CCIFP®)
Connect with Nick
Looking for support or have a question?
Contact us to speak with one of our advisors