COVID-19 Resources for the Construction Industry
With many places deeming construction an essential activity during the COVID-19 outbreak, we know that it can be a confusing time to be in construction, but the Aldrich team is here to help you navigate the new regulations and guidelines that pertain to your business.
Employer Resources for Construction
Additional Business Resources
Related News
For more information on what Aldrich is doing to help our clients with the challenges of continuing businesses during the spread of the coronavirus, visit our COVID-19 Resource Center.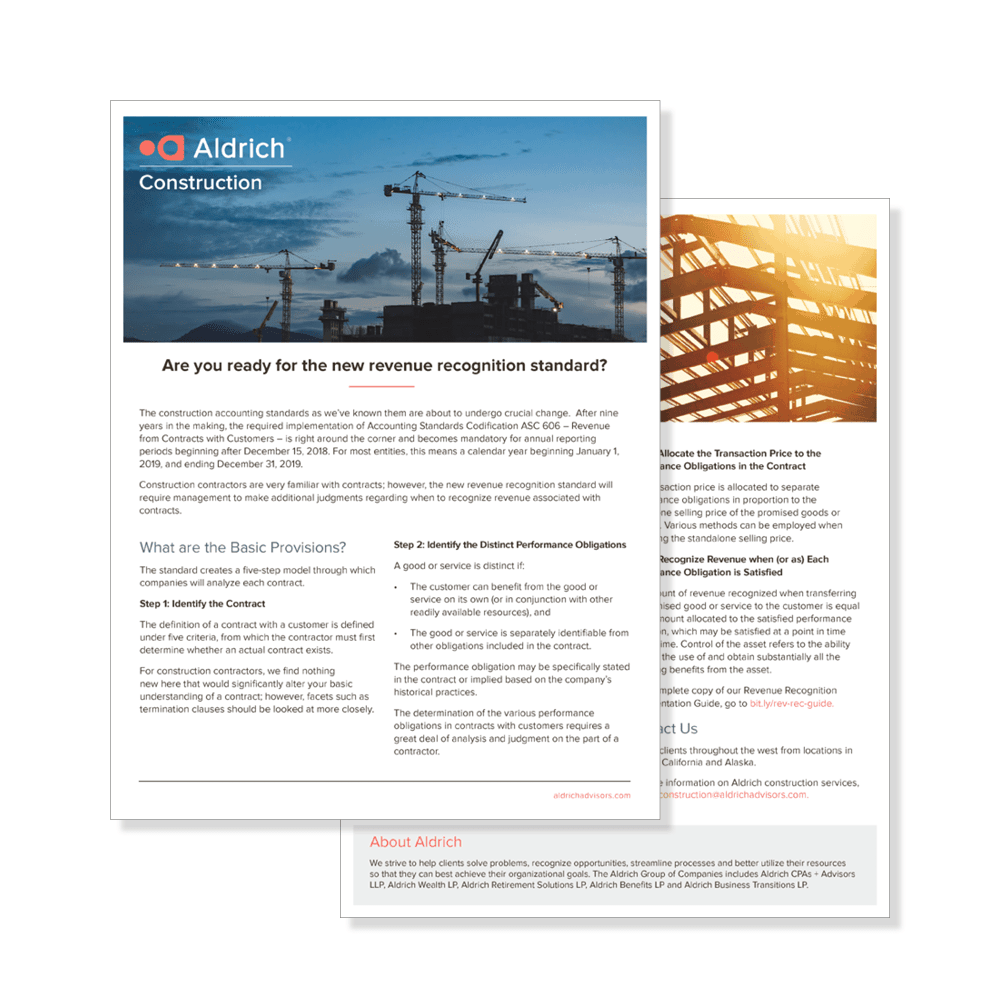 Are you ready for the new revenue recognition standard?
After nine years in the making, the required implementation of Accounting Standards Codification ASC 606 – Revenue from Contracts with Customers – is right around the corner and becomes mandatory for annual reporting periods beginning after December 15, 2018.
Read our full guide
Reliable finance and accounting built on experience
Serving the contractors and the built environment for 20 years.
Our construction financial services group serves more than 200 general contractors, subcontractors and developers, ranging from small proprietorships to large, multi-state contractors with annual revenues between $25 million and $200 million.
Services for the construction industry
Timely financial reporting for your company bonding needs
Audit, review, and compilation of financial statements
Federal and state tax planning, including multi-state tax compliance
Strategic business planning and consulting services
Job costing and accounting systems
Succession and transition planning
Cash flow analysis
Benchmarking
Overhead rate analysis
Balance Sheet Metrics
A Healthy Balance Sheet is Good for Business
There are four key metrics in your construction company balance sheet that communicate financial stability to financial institutions and surety companies.
Meet Our Professionals
Jason Moss has over nine years of experience providing financial statement attestation expertise in our construction niche and overseeing employee benefit plans. Prior to joining the firm, Jason worked as a concrete laborer in his hometown in Michigan. In his current role, Jason helps our construction clients by strengthening their financial reporting and internal controls.…
Jason's EXPERTISE
Construction
Audits and reviews
Employee benefit plan audits
Certified Public Accountant
Connect with Jason
Looking for Support?
Are you a benefits recipient or looking for help with your client account? Send us an email at info@aldrichadvisors.com
Have a question?
Contact us to speak with one of our advisors.