Manufacturing + Distribution
COVID-19 Resources
Visit our COVID-19 Resource Center to learn more about how Aldrich can help you and your business navigate this unprecedented time.
Meet the Manufacturing Team
We eat, sleep and breathe manufacturing.
We understand the challenges, opportunities and goals faced by manufacturing businesses and their peers in the marketplace.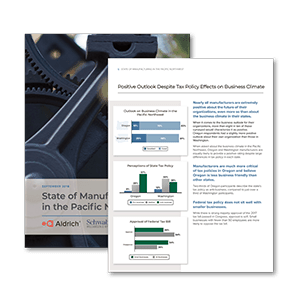 2018 Manufacturing Industry Report
We gathered the Pacific Northwest manufacturing community together to discuss issues that matter most to the industry, including talent, transition planning and supply chain management. Check out the full report to see what keeps them up at night, what gets them out of bed in the morning and the hope they have through it all. Learn more about the process. 
Download Report
Our services include:
Product cost analysis to maximize proficiency
Budgeting and cash flow forecast projections
Cycle time reductions and cycle counting
Production and inventory tax planning
Multi-state and local tax planning
Benchmarking and metric analysis
Board effectiveness and planning
Business process re-engineering
Information technology services
Assurance business valuations
Business succession planning
Strategic business planning
Inventory management, controls, and costing systems design
Financial statements
Operational reviews
Four decades of serving manufacturers and distributors
The essence of management consulting is to help our clients obtain information and advice that lead to real and lasting solutions. Our consultants are innovators, troubleshooters and problems solvers ready to help you.
Our manufacturing and distribution advisors have the knowledge and expertise to help you meet competitive market conditions, enhance operations and grow your business. They are highly knowledgeable about industry practices and values and well-versed in current industry trends and challenges. Whether you need a benchmarking and industry analysis, product pricing and cost analysis, inventory management and controls or cycle time reduction, our team will provide you timely, accurate and relevant financial information critical to your success.
Our advisors are former industry executives providing strategic, financial, performance and organizational advisory services to private and public companies. Companies benefit from bringing in a fresh, objective perspective backed by expertise in that industry.
Meet Our Professionals
Marcy joined Aldrich CPAs + Advisors in 1995 and has worked with a wide range of clients, including high-net-worth individuals, private equity, financial lending, distributors, manufacturers, and other closely-held businesses. Marcy is also the Director of Tax and Director of Estate Planning. Marcy has a special interest and expertise in estate planning and estate tax…
Marcy's EXPERTISE
High-net worth individuals
Closely-held businesses
Manufacturers
Certified Public Accountant
Strategic tax planning and compliance
Certified Specialist in Estate Planning (CSEP)
Private-equity and financial lenders
Connect with Marcy
NW Food Industry Report
The annual Northwest Food Industry Survey identifies the collective challenges and opportunities food processors are facing.
Download the full report
Looking for Support?
Are you a benefits recipient or looking for help with your client account? Send us an email at info@aldrichadvisors.com
Have a question?
Contact us to speak with one of our advisors.