Aldrich Celebrates its 50th Anniversary
---
LAKE OSWEGO, OR, August 9, 2023—Aldrich gathered earlier this month in Oregon and California to celebrate the 50-year anniversary of the firm's establishment in 1973. Celebrations for the anniversary were held in Dayton, Ore. at the Stoller Family Estate, and in San Diego, Ca. on the Kaoira Brewing rooftop.  
"This anniversary demonstrates the entrepreneurial spirit of our people and their dedication to making Aldrich a great place to work, grow, and thrive," shared John Lauseng, CEO + Partner. "Our purpose—we exist to improve the lives of our people, our clients, and our communities—was established at the inception of the firm. This steadfast commitment continues to be the foundation of everything we do today and guides our plans for the future." 
The gatherings were filled with employees connecting, enjoying delicious food, and reminiscing on the past 50 years through speeches. Aldrich hosted a raffle to offer employees the chance to win gift baskets that featured items from longtime clients. In honor of our commitment to our communities, attendees had the opportunity to cast a vote for a cause they would like to support, and tiered donations were made to each organization. 
"It was an honor to celebrate this milestone with our teams, and recognize each individual's part in making it possible. Our firm was founded on the principle of servant leadership, meaning we put others before ourselves and value collaboration and camaraderie over competition. Carrying these values forward as we continue to grow is essential for maintaining our astounding culture," remarked Melissa Berndt, General Counsel + Partner. 
Aldrich was founded in Salem, Ore. in 1973 by Kent Aldrich, who walked away from one of the biggest accounting firms in order to be able to provide clients with local expertise and exceptional service. Steve Tatone, Partner Emeritus and founder of the Stephen M. Tatone Servant Leadership Award, joined the firm in 1974. In the late 1970s, the firm adopted an industry focus, bringing in agriculture and telecommunications clients through acquisitions. In the decades to follow, Aldrich continued to add industries of expertise and established companies to better support clients in all phases of the business cycle. Today, the Aldrich Group of Companies consists of Aldrich CPAs + Advisors LLP, Aldrich Wealth LP, Aldrich Benefits LP, and Aldrich Capital LP.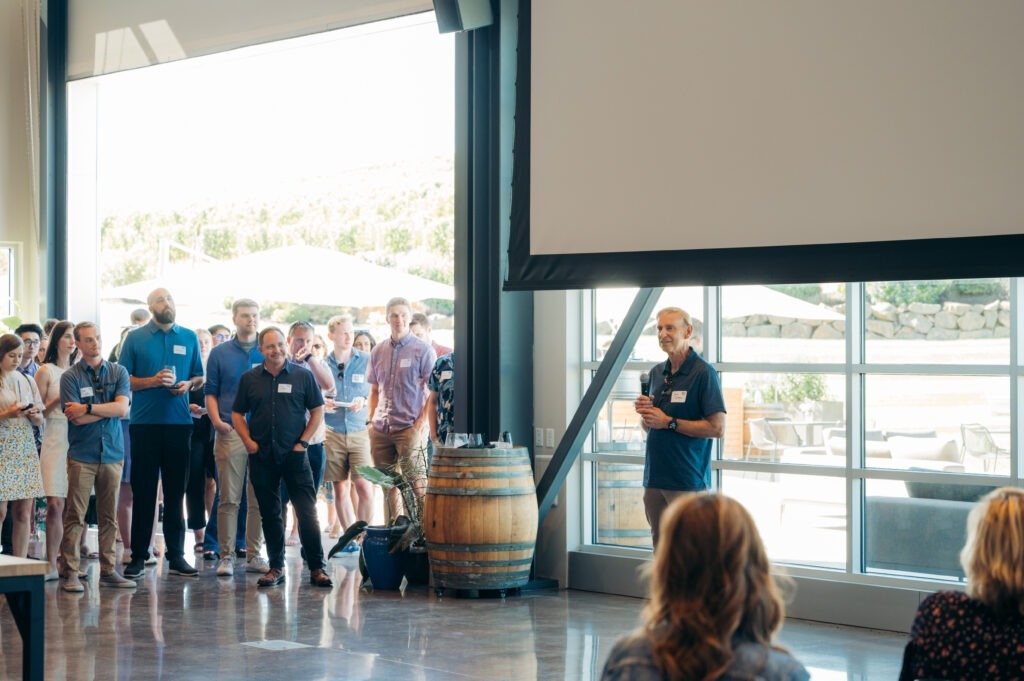 As we look to the future, innovation and an entrepreneurial spirit will ensure our place as a lasting business. This includes taking risks, investing in our future, and empowering professionals of all stages to launch new services or businesses in response to and in anticipation of our client's needs. 
About Aldrich
The Aldrich Group of Companies includes a Top 100 Accounting Firm nationally providing tax, advisory, and consulting services to businesses and individuals. Working closely with businesses, business owners, and individuals, The Aldrich Group of Companies manages financial, wealth, tax, technology, benefits, and business transition strategies. We serve clients with deep industry expertise in construction, manufacturing, healthcare, nonprofit, telecommunications, utilities, professional services, food processing, agribusiness, real estate, and a variety of privately held companies and individual clients. The Aldrich Group includes the following professional services firms: Aldrich CPAs + Advisors LLP, Aldrich Wealth LP, Aldrich Benefits LP, and Aldrich Capital LP.