Aldrich Advisors and Schwabe Report on the State of Manufacturing in the Pacific Northwest
---
LAKE OSWEGO, OR, NOV 23, 2021 — Aldrich CPAs + Advisors, in partnership with Schwabe, Williamson & Wyatt P.C., is enthused to share the second edition of the State of Manufacturing in the Pacific Northwest. This report details the insights from surveying more than 500 industry leaders across the region. The study identified a positive 12-month outlook for most manufacturing companies and the industry, despite the pandemic and related challenges. It also found that the imminent obstacles are growing the workforce, planning for expansion, regulatory impacts, and investing in new technology.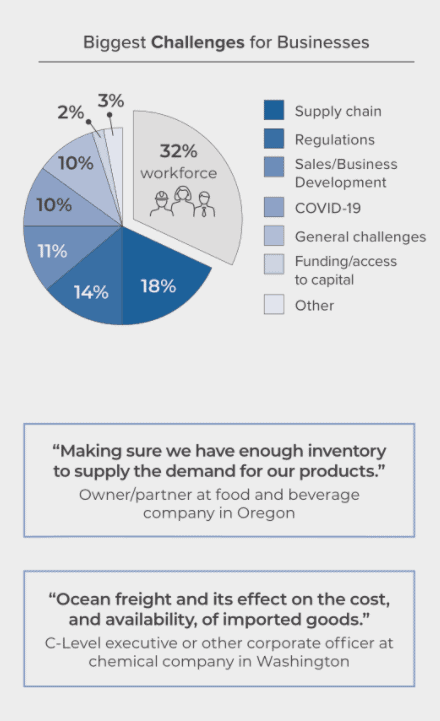 "Though ripple effects from the pandemic continue, it's clear that manufacturing leaders see growth opportunities in the year ahead," said Carrie Sowders, Partner at Aldrich CPAs + Advisors. "The resiliency and innovative thinking of Pacific Northwest manufacturers can be heard throughout the study."
Since the first survey in 2018, Aldrich and Schwabe have remained committed to keeping a pulse on the changes impacting the manufacturing industry and spotlighting growth opportunities for innovation leaders.
"Despite ongoing challenges, we are excited to learn that most manufacturers see an abundance of opportunity in 2022," said Michael Cohen, Manufacturing, Distribution and Retail Industry Group Leader at Schwabe, Williamson & Wyatt. "With a majority of companies identifying opportunities for growth in multiple avenues, the year ahead is promising for the manufacturing community."
On November 16,  Aldrich and Schwabe hosted a webinar, where Sowders and Cohen shared key findings garnered from the report. The webinar recording can be viewed here and the slides are available for download. Aldrich and Schwabe are grateful for the partnership with the more than 500 respondents that made this survey and its insightful results possible.
About Aldrich
The Aldrich Group of Companies includes a Top 100 Accounting Firm nationally providing tax, advisory, and consulting services to businesses and individuals. Working closely with business owners and individuals, The Aldrich Group of Companies manages financial, wealth, tax, technology, benefits, and business transition strategies. We serve clients with deep industry expertise in construction, manufacturing, healthcare, nonprofit, telecommunications, utilities, professional services, food processing, agribusiness, real estate, and a variety of privately held companies and individual clients. The Aldrich Group includes the following professional services firms: Aldrich CPAs + Advisors LLP, Aldrich Wealth LP, Aldrich Retirement Solutions LP, Aldrich Benefits LP, Aldrich Technology LLC, and Aldrich Capital LP.
###