2016 Northwest Food Industry Survey
State of the Food Manufacturing Industry in the Northwest
Overview
Identifying trends and issues impacting the food industry in the Northwest
Aldrich, in partnership with Northwest Food Processors Association (NWFPA), set out to provide food processors in the Northwest with an industry-focused regional report highlighting the collective challenges and opportunities they are facing in 2016.
2016 Northwest Food Industry Report
We surveyed food processors in Oregon, Washington and Idaho on topics ranging from regulations and workforce to technology and sales. The key objective of this survey was to gauge the views about the current state of the food processing industry in the Northwest and identify challenges, opportunities and trends within the food processing industry.
Click here to view a sample of the report.
Results
By and large, the outlook is positive with three-quarters of those surveyed seeing a prosperous long-term future for the Northwest food manufacturing industry. This growth will drive headcounts with nearly half stating they plan to take on more staff in 2016 than last year. However, it also highlights a growing challenge with 76% saying they are finding it difficult to recruit people with the appropriate skills.
Download the full report below to learn more about the trends impacting the food processing industry, including ever-evolving regulations, advancements in technology, talent acquisition, sales and marketing strategy, international growth and supply chain integration.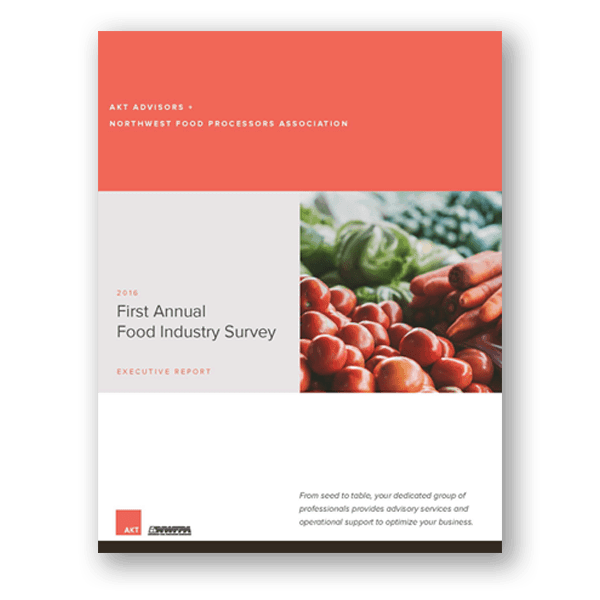 Read the full report.
Download the full report to learn more about the trends impacting the food processing industry.
The impact and comprehension of new regulations
Technology use and data security
Attracting and training talent
International sales and export incentives
Click here to download the report.