2018 Manufacturing Industry Survey
State of Manufacturing in the Pacific Northwest
Overview
Identifying trends and issues impacting the manufacturing industry in the Pacific Northwest
Aldrich, in partnership with Schwabe, Williamson & Wyatt, set out to provide manufacturers in the Pacific Northwest with an industry-focused regional report highlighting the collective challenges and opportunities they are facing in 2018.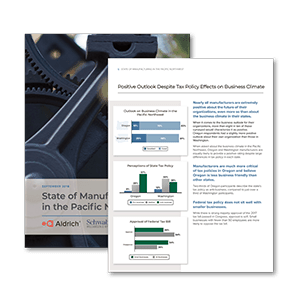 2018 Manufacturing Industry Report
We gathered the Pacific Northwest manufacturing community together to discuss issues that matter most to the industry, including talent, transition planning and supply chain management. Check out the full report to see what keeps them up at night, what gets them out of bed in the morning and the hope they have through it all.
Click here to view a sample of the report.