Aldrich CPAs and Advisors Named One of Construction Executive's Top 50 Construction Accounting Firms for 2022
---
LAKE OSWEGO, ORE., AUG 22, 2022 — Construction Executive (CE) named Aldrich CPAs + Advisors 15th in its 2022 ranking of top CPA firms serving construction clients. Since the list's inception in 2019, Aldrich has consecutively ranked in the top 15. 
Construction Executive is the leading trade magazine and source for news, market developments, and business issues impacting the construction industry. CE utilizes this annual feature to report on emerging trends and track industry growth.   
"We are so honored to be consistently recognized by Construction Executive, and are proud of the industry expertise it represents," said Tracy Allen, Partner and construction leader for Oregon clients. "We put ourselves in our clients' shoes to proactively anticipate their needs. Our team reveres our clients' successes and mulls over their challenges as if they are our own. It's our pleasure to serve our clients and we strive to make them the best at what they do."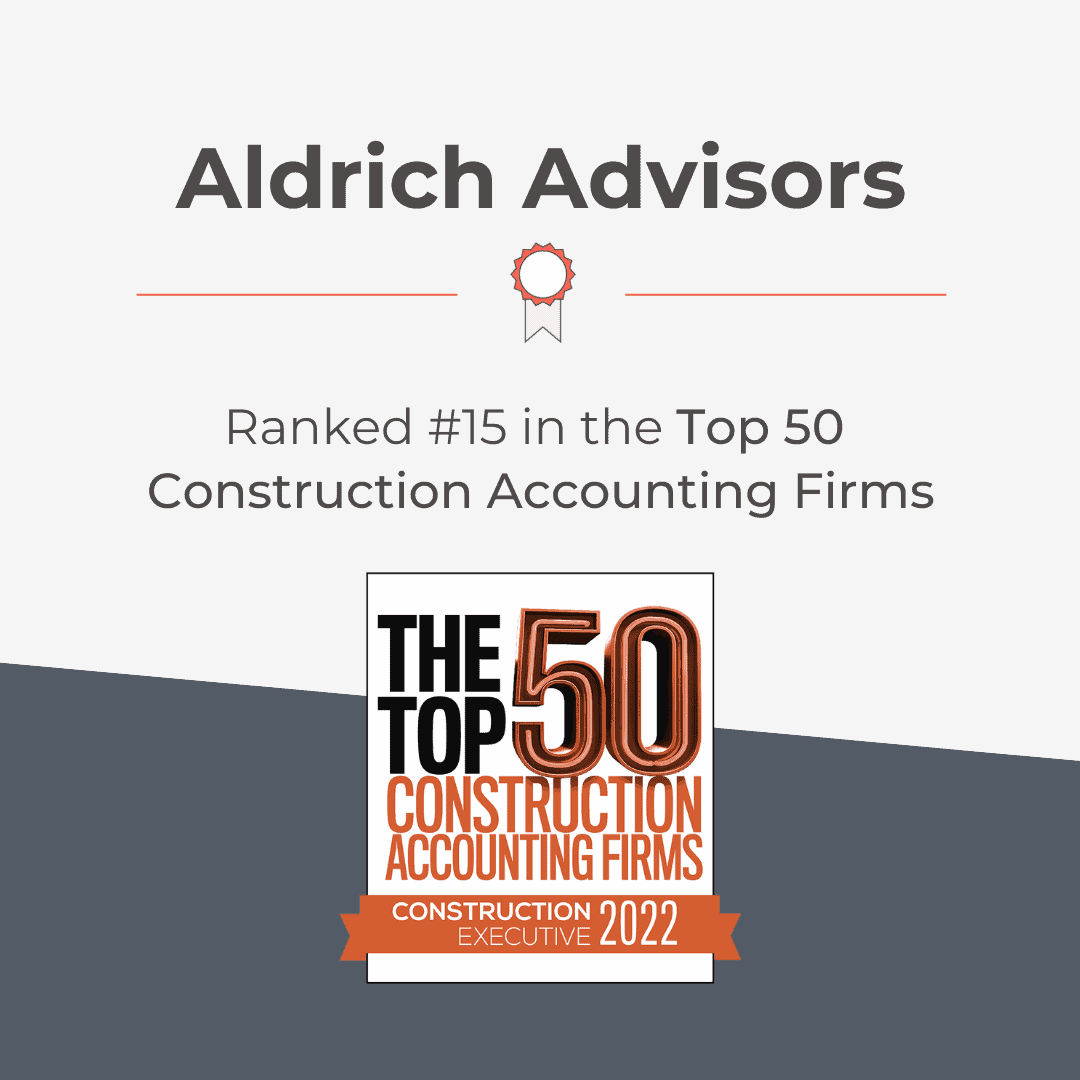 Our construction financial services group serves more than 1000 general contractors, subcontractors, and specialty contractors ranging from small proprietorships to large, multi-state contractors with annual revenues between $10 million and $1 billion. With more than 50 dedicated construction experts, our professionals continuously advance their knowledge and fuel their passion for the industry by writing and teaching classes for various construction associations, including the Construction Financial Management Association (CFMA) at a national level. 
"Leading with innovation and versatility, we are uniquely positioned to serve a range of businesses, from billion-dollar national companies to small, newly formed organizations. We take pride in driving value beyond what a typical accounting firm offers," added Nick Balaity, Partner and construction leader for California clients.  
CE developed The Top 50 Construction Accounting Firms™ ranking by surveying more than 700 U.S. accounting firms with a dedicated construction practice. Click here for the complete list and to learn more about the survey methodology. 
About Aldrich
The Aldrich Group of Companies includes a Top 100 Accounting Firm nationally providing tax, advisory, and consulting services to businesses and individuals. Working closely with businesses, business owners, and individuals, The Aldrich Group of Companies manages financial, wealth, tax, technology, benefits, and business transition strategies. We serve clients with deep industry expertise in construction, manufacturing, healthcare, nonprofit, telecommunications, utilities, professional services, food processing, agribusiness, real estate, and a variety of privately held companies and individual clients. The Aldrich Group includes the following professional services firms: Aldrich CPAs + Advisors LLP, Aldrich Wealth LP, Aldrich Retirement Solutions LP, Aldrich Benefits LP, Aldrich Technology LLC, and Aldrich Capital LP.