Aldrich Capital Middle Market M&A Update — First Quarter of 2021
---
To business owners everywhere: dealmaking is back! The first quarter of 2021 saw a record number of mergers and acquisitions (M&A) completed. The uptick in M&A activity suggests the surge we saw in  Q4 did not satisfy the appetite for transactions. These early indications point toward robust M&A activity throughout 2021.
After pandemic lockdowns grounded deal advisors and threatened revenue across industries, renewed optimism around vaccine programs and economic growth is driving the 2021 boom—the busy first quarter built on a rebound in M&A that started toward the end of last year.
U.S. Middle-Market M&A Activity
What Does this Mean for my Business's Value?
As completed deals are reaching the finish line, the next logical question is – at what price?  Sellers will be happy to know that valuations are back to pre-pandemic levels. Backed by strong transaction demand, significant available capital, and a normalized debt market, transaction multiples have largely stabilized, as shown by the accompanying valuation chart.
What's Driving this Activity and Increased Valuations?
Primarily private equity (PE) investors. Bolstered by the vaccine rollout, fiscal stimulus, and pent-up demand, investors remain eager to use their excess cash to find partners with quality businesses looking to transition. For those wondering how "quality" is defined, if your growth rate and margins are better than your industry's average, chances are there are investors out there who would like to speak with you!
Who's Buying?
With the excess cash and pent-up demand, investors are looking high and low for quality. We are beginning to see the "institutionalization of everything." Simply stated, businesses once viewed as too small or those not in a "trendy" sector are increasingly looking more attractive to investors. If a business has consistent growth, is profitable, and can be scaled, the buyer universe is more extensive than you think.
As they continue to place an increasingly large importance on 'roll-up' strategies, we are seeing larger PE sponsors aggressively pursue businesses across many industries, such as HVAC, landscaping, and just about any service business.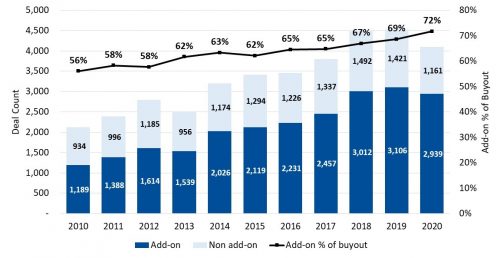 With this backdrop of a stabilized economy, vaccine rollout, pent-up demand, high valuations, and the prospective hike in personal and corporate tax rates, the stars may have aligned for those owners looking for liquidity.
What Does the Future Hold for my Business?
Our experience with the many stages of a business's life helps us keep the big picture in mind for you throughout our advising process. The Aldrich Capital Advisors team is here to help if you would like to discuss your company's financial future and how to make sure your affairs are to keep your business moving.
Meet the Author
Brian Andreosky joined Aldrich in 2019 and is dedicated to helping business owners transition their companies. In this role, he provides exit planning services to help business owners find the right solution to transition and maximize the value of their business. Brian is a member of the Exit Planning Institute (EPI). Prior to joining Aldrich,... Read more Brian Andreosky, CEPA
Brian's EXPERTISE
Closely-held business and owners
Business succession planning
Business planning and analysis
M&A and capital raise transactions
Valuation
CEPA, Certified Exit Planning Advisor
Connect with Brian