Aldrich Capital Middle Market M&A Update: Q3 2021
---
2021 has turned into a blockbuster year for the capital markets. Not only has the year been a boon for the public markets, but dealmakers in the private markets have continued to ink transactions at a record-breaking pace. Following the strongest first and second quarter seen in years, mergers and acquisitions (M&A) continued to experience high transaction volume and deal value while maintaining a steady rate of large transactions during the third quarter of the year.
In addition to the sheer number of deals taking place, increased activity in large transactions continues to facilitate a high-multiple environment. The coupling of ample cash and debt availability and the pressure to deploy those funds continues to push valuations to new heights. This pressure to close deals in a highly competitive market has pushed investors to implement new tactics, such as moving faster to close deals, enhancing equity options, and paying higher multiples, to name a few.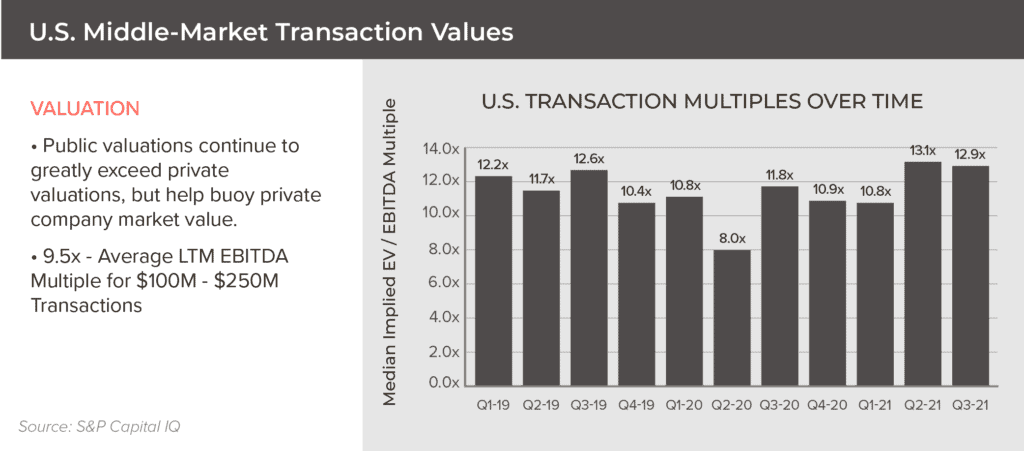 If you are thinking, "how much better can it get?," most professionals will tell you they expect a record-setting Q4 2021 as timelines have generally been condensed by the adoption of virtual meetings and owners' efforts to try and outrun tax uncertainty.
Yet despite record levels of deal value and activity, sidelined capital continues to accumulate at all-time highs.
Planning for the New Year with Aldrich
This capital will eventually need a home, meaning this story can find room to run well into 2022.
We look forward to rounding out the year-end updates in January and providing our views going into the new year. Until then, if you have any questions, please reach out to your Aldrich Advisor.
Meet the Author
Brian Andreosky joined Aldrich in 2019 and is dedicated to helping business owners transition their companies. In this role, he provides exit planning services to help business owners find the right solution to transition and maximize the value of their business. Brian is a member of the Exit Planning Institute (EPI). Prior to joining Aldrich,... Read more Brian Andreosky, CEPA
Brian's EXPERTISE
Closely-held business and owners
Business succession planning
Business planning and analysis
M&A and capital raise transactions
Valuation
CEPA, Certified Exit Planning Advisor
Connect with Brian